Products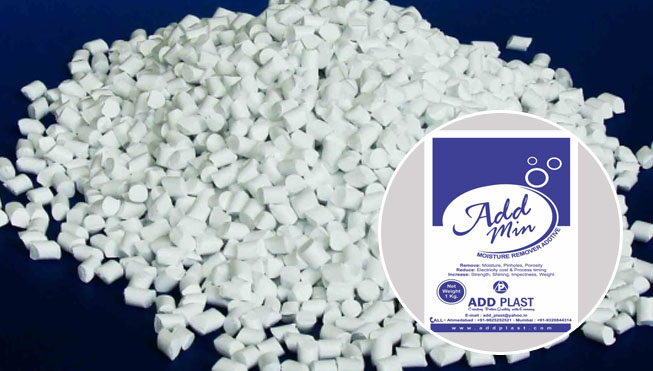 Moisture Removal Additives
Desiccant Masterbatch is a type of advanced functional masterbatch, developed to act as anti-moisture masterbatch (Moisture Removal Powder). It can efficiently absorb all the moisture from plastic during extrusion process. Foam, Crack, Dot and any other moisture-related problems will be solved through adding Desiccant Masterbatch, Silver line, Flow Fluctuation, Reprocess material.
Uses of Moisture Removal Powder & Additives:
The end product is solid and does not have any porosity.
Improved surface finish of the plastic granules/articles.
Increases production, Reduces machine load
Increases the strength of finished product.
Minimizes air block inside recycling die/mould, Minimizes production wastage.
Controls production related problems in worn out screw & barrel to an extent.
Reduces cost of production.
Features:
Guaranteed Product for removal of Moisture manufacturer company
On mixing Addmin product regains strength hence increasing the life of the product
Application:
PVC Pipes
HDPE Pipe
Carry Bag
PP, HDPE, LDPE, HIPS Granuels
Garbage Bag
Plastic Pipe
Tarpaulins